The Gabe Fleming Memorial Hockey Scholarship Fund hosts events to raise money that supports all kids to play hockey regardless of their financial status. If you'd like to participate, check out our upcoming events below. While you're here, take a look at our photo gallery of previous events.
9th Annual GFMHSF Charity Golf Outing
Only 9 Spots for 4-Somes Remain!
Sun and fun is sure to be a part of the 9th annual GFMHSF Charity Golf Tournament on Friday, June 28, 2019. Held at The A.H. Blank Golf Course. You'll enjoy playing while benefiting the Gabe Fleming Memorial Hockey Scholarship Fund. The "Best Shot" tournament begins at 9 a.m. and ends with lunch around noon-1:00 p.m., rain or shine! Click here for more information!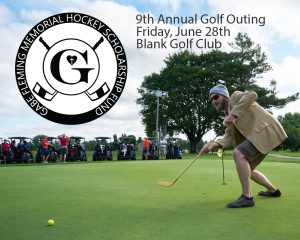 11th Annual 3v3 Tournament – 2020 Date TBD at Well's Fargo Arena in partnership with the Iowa Wild