Only 9 Spots for 4-Somes Remain!
Friday, June 24th, 2022 – 9 a.m.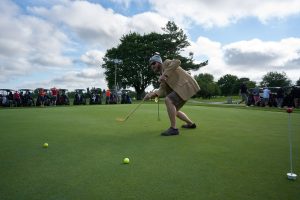 A.H. Blank Golf Course
808 County Line Road Des Moines, IA  
Sun and fun is sure to be a part of the 12th annual GFMHSF Charity Golf Tournament on Friday , June 24th, 2022. Held at The A.H. Blank Golf Course. You'll enjoy playing while benefiting the Gabe Fleming Memorial Hockey Scholarship Fund. The "Best Shot" tournament begins at 9 a.m. and ends with lunch around noon-1:00 p.m., rain or shine! Golf etiquette and dress code will be enforced!
Along with team prizes for the winners in each of 3 flights, there are several other opportunities for competition and prizes:
Longest Drive (Men and Women)
Longest Putt (Men and Women)
Hole-in-One Hole
Gilmore Tee Off (tee off with hockey stick)
Chubb's Longest Putt
Registration Information
Team registration is $360 and includes lunch, a round of golf and carts for four individuals.  The registration fees go up to $440 on June 1st so make sure you register early! Team registrations can be filled out and paid here and will close on June 10th.
Registration and Payment
Click here to register your team.
Thank you for your support!